CUSTOM ASSORTMENT
CROISSANTS AND OTHER TREATS
Do you wish us to serve a delicious treat with the coffee? Croissants, brownies, biscotti and other treats creates an atmosphere of pampering for Your guests.
It is possible to promote Your company with branding and logos on for example cupcakes and macarons.
Share your ideas and wishes with us and we will find a solution that suits you in cooperation with our network of skilled crafts partners.
Do You wish to offer a health boost to Your guests? Our juice bar is will do the trick.
We offer a variety of freshly squeezed fruit and vegetable juices. They are appreciated for their bright colors, fresh taste and because of the natural vitamin kick.
The juice bar costs from DKK 5,000.- Including 150 servings and 2 hours of service. Additional hours cost DKK 1,500.- including 100 servings.
The price includes transport within Copenhagen. Outside Copenhagen there will be additional transport costs.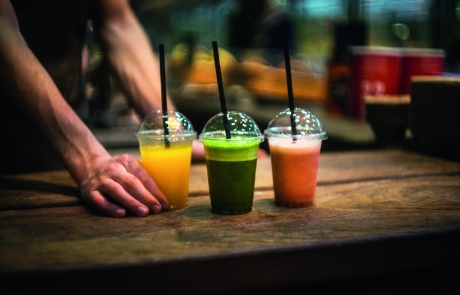 In collaboration with local craft brewery, Nørrebro Bryghus, we offer quality draft beer.
The beer range includes the brewery's four classics: Stuykmann Witt, Ravnsborg Rød, Çeske Böhmer and New York Lager.
In addition there are four seasonal beers, which can be ordered during their seasons: Forårs Bock, Pacific Summer Ale, King's County Brown Ale and Nørrebros Julebryg.
Read more about our beer moped, beer cask and mobile beer bars.
LemonAid is organic and fairtrade lemonade and ChariTea is organic and fairtrade iced tea. Both quenches thirst and serves a good cause.
The products are made of the best ingredients and in the fairest way. The ingredients are organically grown and originate from certified small-scale farming areas. For each bottle sold approximately DKK 1.- is donated to the nonprofit organization LemonAid & ChariTea e.V.
Add them to Your next booking.
Price: DKK 20.- per bottle.
Bangs ginger shots have an exquisite fresh and intense flavor of ginger root. They are made from freshly squeezed ginger juice, apple juice, orange & lemon juice.
Bangs ginger shots are produced without the use of concentrates and have no added sugar. It is a pure product and this is reflected in the taste.
Add them to Your next booking.
Price: DKK 15.- per bottle.
In cooperation with the local dairy, Hansens Flødeis, we offer ice cream and sorbet of a very high quality.
The many popular flavors include among others vanilla, chocolate, nougat, mocha and pistachio.
Read more about our ice cream carts.