OM KALLES KAFFE EN
In the summer of 2009 Jacob Karlsen, better known as Kalle, established Kalles Kaffe. His inspiration came during a trip to London, where Kalle saw the small coffee scooters driving around in the streets selling coffee to people passing by.
Back in Denmark the to go coffee concept were wellknown and the whole gourmet coffee culture were in growth. Kalle took the opportunity and bought his first Piaggio scooter from England and had it rebuild and customized at a blacksmith. Short after, Kalle started driving around the Copenhagen streets to serve good coffee.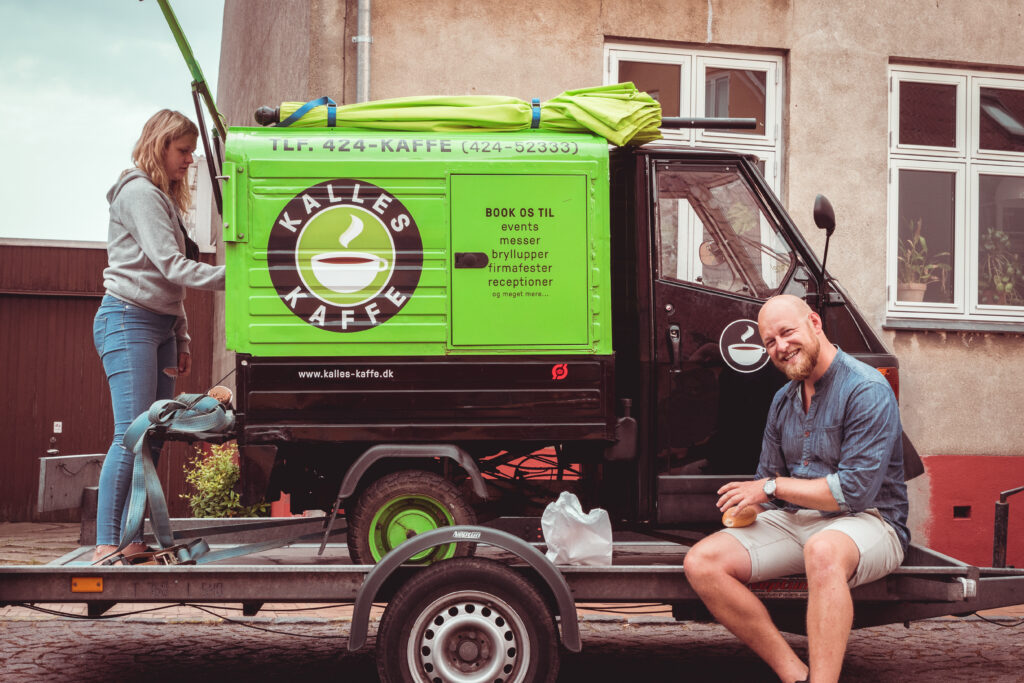 As company, we believe in always make decisions with a big "yes-hat". Our first priority is to always have happy and satisfied customers and business partners. We (very) rarely say no to a job and we will go a (very) long way to accommodate our customer requests. We are professional, grounded and always ready for a good talk.
Our fleet consist of 25 mobile units – 12 coffee scooters, 6 coffee bikes, 2 coffee vans and a vintage Citroén HY. Besides these we also have 3 ice cream bikes, one ice cream cart, 2 beer scooters and more.
Today, the team of Kalles Kaffe consist of approx.. 75 baristas – all of them trained in-house. They give our customers an unforgettable coffee experience, whether it's on the street, at an arrangement or as subcontractor to a big event. We aim to always execute our tasks professionally. Behind the scene, we have a team back at the office, that all have their different work tasks and expertise.
Our mantra in Kalles Kaffe is, that every (wo-) man is a barista
(wo-) man. Meaning that, the organization in our small event company is rather flat and it won't be a rare sight to see our Manager behind the units doing some coffee magic. 
Kalles Kaffe offers much more than just coffee. We see ourselves as a mobile barista service that offers tailor-made coffee events for any occasion. We have experience with executing big events both as Kalles Kaffe brand, but also in collaboration with other companies or associations. Every year we do many of the same events and have had many good experiences through the years ever since Kalles Kaffe started in 2009.
HIFI KLUBBEN X KALLES KAFFE
Our vintage Citroén HY was literally back on the beat again in November 2018 when we, in collaboration with Hi-fi Klubben, tested Denon's surround sound system. We had the coffee van installed with a hidden camera and sound setup and parked the van in a public area to do some regular coffee sale. The coffee thirsty customers got a really fun and extraordinary sound experience during their visit.
Since 2013 Kalles Kaffe has been a solid partner at the yearly Danish political event called "Folkemødet" – taking place at Bornholm. Every year we do a setup with 5-7 sales units placed around the large area where the event take place. This special week during "Folkemødet" is a big experience for our coffee-crew and an event we really look forward to every year. Beside coffee, we have also served juice and ice cream to all the (always) happy visitors and participants.
Kalles Kaffe also offers barista service outside Denmark. We have several times sent our baristas on a mission for ex. J. P. Morgan (international bank) both in Las Vegas, Sevilla and New York. We have also served our coffee in Norway, Sweden and Mallorca for a large Danish brand. Coffee can be served everywhere and we make it possible with our mobile coffee units.
Since 2013 Kalles Kaffe has been a part of Postnord Danmark Rundt every year. Along the route and in the finish line area, we have been serving coffee and draft beer from Nørrebro Bryghus to the audience and VIP's.
In June 2018 Kalles Kaffe helped Oatly with a big promotion tour in Denmark. During 14 days we served free coffee with Oatly oat milk in public places like Nørrebrogade, Kongens Nytorv and at KEA (Copenhagen School of Design and Technology). Our coffee scooter had a full branding solution with Oatly logo, statements and customized menu signs. Again in March 2019 we supported Oatly with barista service, at their booth stand at Irma's food fair, "Mad&Messe".
We from Kalles Kaffe had the pleasure to serve coffee from our coffee scooter and our signature HY-Citroën. In 2 hours we served over 250 cups of coffee. CARS`N`COFFEE is a worldwide phenomenon where supercar enthusiast meet and show and discuss their cars. The events are 4 Sundays over the summer at Formula Automobile Lyngby. Next event is at 26/05-19